Leider ist unter einem aktuellem Suse oder Red Hat System Plymouth so stark in das Gespann grub2 und systemd integriert, dass ich mich eher davor hüte, alle Plymouth bezogenen Pakete zu deinstallieren. Nebenbei: Inzwischen ist wohl auch unter Ubuntu eine starke Einbindung von Plymouth in die Prozesse beim Systemstart vorgenommen worden. Siehe: http://ubuntuforums.org/showthread.php?t=1457388
Dennoch kommt ab und zu der Wunsch auf, den animierten Plymouth-Splash-Screen während des Boot-Vorgangs los zu werden, um ohne Umwege die Boot-Meldungen sehen zu können. Diesen Wunsch hatte zumindest ein Admin, der mich vorgestern per Mail anschrieb.
Auf meinen Opensuse 12.2-Systemen mit Grub2 half hier folgendes Vorgehen:
Deaktivieren des animierten Plymouth-Boot-Screens mit Hilfe von YaST2
Man öffne unter YaST2 das Modul "Boot Loader". Im sich öffnenden Fenster gehe man zum Button "Boot Loader Options". Das nächste Fenster zeigt eine Zeile zu Kerneloptionen: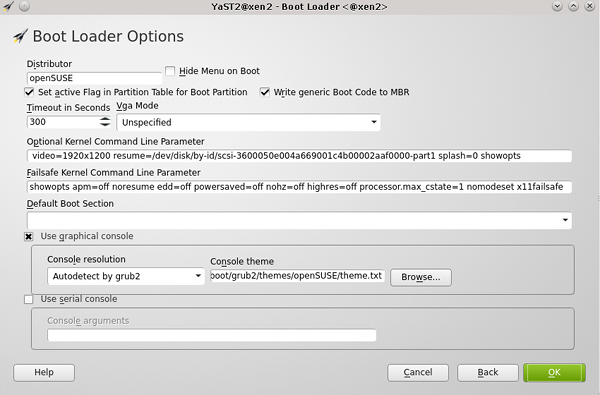 In dieser Zeile setzt man
splash=0
ein. Zudem entfernt man ein evtl. vorhandenes Schlüsselwort "quiet". In Fall meines betrachteten Systems lautet die fertige Zeile dann:
video=1920×1200 resume=/dev/disk/by-id/scsi-3600050e004a669001c4b00002aaf0000-part1 splash=0 showopts
Auf anderen Systemen wird natürlich das Resume-Device für den Swap-Bereich eine andere Bezeichnung haben. Danach schließt man sukzessive die YaST2-Fenster.
YaST2 speichert die eben angegebenen YaST2-Bootloader-Daten übrigens in der Datei "/etc/default/grub" ab. Es lohnt sich, bei Gelegenheit mal einen Blick in diese Datei zu werfen! In dieser Datei kann man Basisoptionen für Grub2 hinterlegen. Auch ganz ohne YaST2, wenn es ein muss.
Auf dem hier veränderten System sieht die Datei dann so aus:
GRUB_DISTRIBUTOR=openSUSE
GRUB_DEFAULT=saved
GRUB_HIDDEN_TIMEOUT=0
GRUB_HIDDEN_TIMEOUT_QUIET=true
GRUB_TIMEOUT=300
GRUB_CMDLINE_LINUX_DEFAULT=" video=1920×1200 resume=/dev/disk/by-id/scsi-3600050e004a669001c4b00002aaf0000-part1 splash=0 showopts"
# kernel command line options for failsafe mode
GRUB_CMDLINE_LINUX_RECOVERY="showopts apm=off noresume edd=off powersaved=off nohz=off highres=off processor.max_cstate=1 nomodeset x11failsafe"
GRUB_CMDLINE_LINUX=""
# Uncomment to enable BadRAM filtering, modify to suit your needs
# This works with Linux (no patch required) and with any kernel that obtains
# the memory map information from GRUB (GNU Mach, kernel of FreeBSD …)
#GRUB_BADRAM=0x01234567,0xfefefefe,0x89abcdef,0xefefefef
# Uncomment to disable graphical terminal (grub-pc only)
GRUB_TERMINAL=gfxterm
# The resolution used on graphical terminal
# note that you can use only modes which your graphic card supports via VBE
# you can see them in real GRUB with the command "vbeinfo"
GRUB_GFXMODE=auto
# Uncomment if you don't want GRUB to pass "root=UUID=xxx" parameter to Linux
#GRUB_DISABLE_LINUX_UUID=true
# Uncomment to disable generation of recovery mode menu entries
#GRUB_DISABLE_LINUX_RECOVERY=true
# Uncomment to get a beep at grub start
#GRUB_INIT_TUNE="480 440 1"
GRUB_THEME=/boot/grub2/themes/openSUSE/theme.txt
GRUB_BACKGROUND=/boot/grub2/themes/openSUSE/background.png
Die dortigen Infos werden dann von einem der Scripts unter /etc/grub.d aufgegriffen, sobald YaST2 im Hintergrund
zusätzlich
grub2-mkconfig -o /boot/grub2/grub.cfg
ausführt, um die eigentliche grub2-Konfigurationsdatei unter /boot/grub2/grub.cfg erstellen zu lassen. Dort findet man die getroffenen Einstellungen letztlich natürlich auch wieder.
Bootet man nun neu, fährt das System dann schön im Textmodus hoch und man kann einen Blick auf die schnell vorbeiziehenden Meldungen von systemd und den gestarteten Applikationen zum Bootvorgang werfen.
——–
Drei ergänzende Hinweise
Hinweis 1:Grub 2
Nebenbei haben wir mal wieder gelernt, dass Grub2 relativ kompliziert – nämlich teils über die über die "/etc/default/grub", teils über Script-Dateien – zu konfigurieren ist. Hierzu ein paar Links;
http://www.dedoimedo.com/computers/grub-2.html
http://doc.opensuse.org/documentation/html/openSUSE/opensuse-reference/grub2.html
http://manual.siduction.org/de/sys-admin-grub2-de.htm
Hinweis 2: Etwas Tipparbeit beim Umgang mit grub2 sparen
Übrigens (off topic):
Um beim Experimentieren mit Grub etwas Tipparbeit zu sparen und eine Ähnlichkeit mit (älteren) Debian-Derivaten herzustellen, kann man sich unter SuSE einen abgekürzten Befehl "update-grub" als Skript (an geeigneter Stelle im Suchpfad) hinterlegen:
#!/bin/sh
set -e
exec grub2-mkconfig -o /boot/grub2/grub.cfg "$@"
Wer sich über das "$@" wundert: grub2-mkconfig hat z.Z. zwar nur 3 Parameter, kann ja aber künftig noch mehr bekommen:
mysystem:~/bin # ./update-grub -v
grub2-mkconfig (GRUB2) 2.00
mysystem:~/bin # ./update-grub -h
Usage: grub2-mkconfig [OPTION]
Generate a grub config file

-o, –output=FILE output generated config to FILE [default=stdout]
-h, –help print this message and exit
-v, –version print the version information and exit

Report bugs to <bug-grub@gnu.org>.
mysystem:~/bin #
Hinweis 3: Kein graphischer Grub2-Bildschirm
Übrigens: Will man neben Plymouth auch den grafischen Grub2-Schirm loswerden, so muss man im oben dargestellten YaST2-Fenster den Haken bei der Option "use graphical console" entfernen. Dies führt dann zu einem Eintrag "GRUB_TERMINAL=console" in der "/etc/default/grub".